About the Airlines – Spirit Airlines – Spirit Airlines, Inc. (stylized as spirit) is an American ultra-low-cost carrier headquartered in Miramar, Florida in the Miami metropolitan area. It is the eighth largest commercial airline in North America. Spirit operates scheduled flights throughout the United States and in the Caribbean and Latin America. Read More About Spirit on Wiki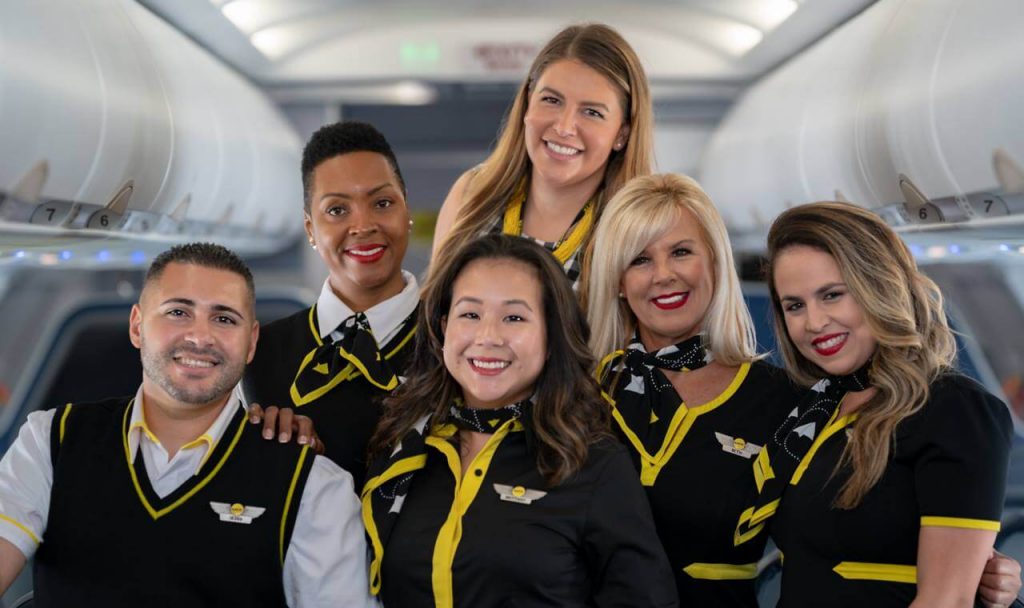 Job Notification/Spirit Airlines Cabin Crew  – The Spirit Airlines is Hiring For Suitable Cabin Crew To Join Their Crew Team. Interested Candidates Can Can Apply For Cabin Crew Spirit Airlines Online – The Eligibility Criteria & all other details are given below –
Spirit Airlines Cabin Crew Recruitment 2021 Summary –
Airlines – Spirit
Positions – Cabin Crew
Age – Minimum 21
Qualification – High School
Operations – Inflight
Job type – Full Time
Locations – Florida
Must be eligible to work in the United States without sponsorship.
Job Description
Overview
Here at Spirit Airlines, our mission is to deliver the best value in the sky and be the most successful airline on Earth!
Imagine being a Team Member in an organization introducing 100's of new aircraft that will double our fleet while scaling the organization's people, process, and technology infrastructure. Investing in a Rock Star like you will not only make an immediate impact on the business but help us continue building a bench of future leadership. Our Team Members develop their careers rapidly while building key skills that drive long-term success.
Be part of our Transformation Journey!
Team-driven: Your leaders will be right beside you to mentor, share ideas, and collaborate. Peers and leaders are valuable contributors.
The Sky is No Limit: Our constant growth means boundless career opportunities. There is no limit to how fast and how far you can grow within this organization.
The Giving Spirit: We are committed to giving back to the communities where we live and work.
Why Spirit?
Competitive base salaries with robust health & welfare benefits
Agile career paths and accelerated career advancement
Travel & flight benefits for you and your family
About this Job
What does it mean to be a Spirit Flight Attendant? Flight Attendants are the face of Spirit – they welcome Guests with a smile; they are fun and friendly, relaxed and confident, playful yet professional. Spirit Flight Attendants care about getting Guests where they need to be safely, reliably, and on time.
As a Spirit Flight Attendant, you are responsible for providing excellence in Guest services and an enjoyable experience on board any one of our aircrafts.  We have the youngest fleet in the industry and are looking for the friendliest Flight Attendants to fly our skies with us!  Sounds like something you'd like to do?  We thought so, too.  As a representative of Spirit Airlines, you will help our Guests love and appreciate Spirit's unbundled fares.  We proudly make it easy for our Guests to choose the optional services they value most. Spirit Airlines Flight Attendants provide leadership, direction, and assistance to fellow Spirit Team Members and Guests.

Responsibilities
Responsible for the safety and comfort of Guests aboard the aircraft while providing exemplary service.
Provide Guests with briefings pre-flight, during flight, and after landing.
Assist Guests by answering any inquiries they may have in addition to aiding Guests with their carry-on items, which may require overhead lifting.
Market, sell, and provide snacks and beverages to Guests.
Check emergency equipment and be aware of hazardous situations in the cabin.
Demonstrate the use of emergency equipment as required.
Provides leadership, direction, and assistance during an emergency situation, including aircraft evacuation, administering first aid to ill or incapacitated Guests, and during incidents such as turbulent flights and delayed flights.
Maintain compliance with all Federal Aviation Regulations as well as Spirit's policies and procedures.
May perform other responsibilities as assigned. Responsibilities and duties may change when circumstances dictate (e.g. emergencies change in workload, rush jobs or technical developments).
Qualifications
High School Diploma or GED required, College degree preferred.
At least two (2) years of experience in the Guest Service, Hospitality and/or Sales/Merchandising industry.
Required to attend and successfully complete a 4-week Initial Flight Attendant training.
Must be at least 21 years of age.
Must be at least 5'0 (without shoes).
Must be able to lift 50lbs from floor to shoulder level, ability to reach aircraft overhead bins and storage areas.
Must be able to fasten a four point jump seat harness without the use of extension devices.
Must have valid passports/documents with the ability to travel in and out of the USA and to all cities/countries served by Spirit Airlines.
Must be eligible to work in the United States without sponsorship.
Must be dependable, energetic, outgoing, a team player, and demonstrate leadership and exceptional interpersonal skills.
Must be flexible and willing to relocate to a base assignment at your own expense in any current or future crew bases. Current bases are: ACY, DFW, DTW, FLL, LAS, MCO, & ORD.
Ability to work flexible hours, days and holidays.
Ability to work in close quarters with service animals as well as all snack items, including but not limited to peanuts.
Ability to communicate effectively. Must be proficient in the English language; bilingual in Spanish is a plus.
Must maintain a polished, professional and conservative appearance at all times.
Driver's license is preferred.
*Please be advised that you will be asked to complete a required assessment to be considered for this position. This assessment will be emailed to you after you apply. Please be sure to check your Spam folder and/or junk mail if you do not receive it. *
We offer a competitive salary and comprehensive benefits to our team members including medical, dental, STD, LTD, life insurance, 401(k), paid time off, travel benefits and much more. We strive to maintain a professional, yet friendly environment and promote professional and career development for our Team Members.
EEOC Statement
Spirit Airlines is an Equal Employment Opportunity employer. All aspects of employment are governed on the basis of merit, competence and qualifications without regard to race, color, religion, sex, national origin, age, disability, veteran status, sexual orientation, gender identity or any other category protected by federal, state, or local law.
HOW TO APPLY – Interested Applicants can Apply For Spirit Airlines Cabin Crew via Clicking on the APPLY NOW Button Below
Spirit Airlines Cabin Crew Online Apply Here

Also Check & Apply For –
Saudia Airlines Cabin Crew Attendant 2021
Enter Air Cabin Crew Hiring for 2021