About the Airlines – Regional Express – Regional express also known as Rex is an Australian Airline Based  Mascot, New South Wales. Regional express operates scheduled regional services and also It is Australia's largest regional airline outside the Qantas group of companies and serves New South Wales, South Australia, Victoria, Queensland, Tasmania and Western Australia. (Wiki)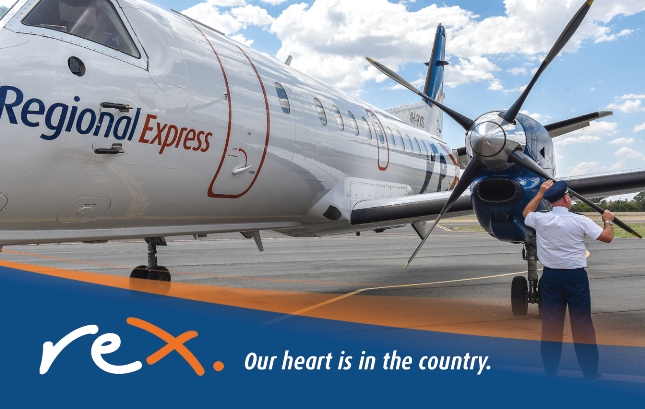 More Jobs – Click Here
Job Notification / Regional Express flight attendant – The Australia Based airlines Regional express is looking for suitable Candidates/Applicants for the cabin crew Positions to join the team & Hiring cabin crew in Australia. Interested Applicants can check eligibility criteria & Apply for Regional express cabin crew Australia online –
Job overview – regional Express Flight Attendant Australia
Regional Express – We fly to many unique destinations providing our passengers with a link between the City and Regional Australia. Our Flight Attendants are based in Adelaide, Albury, Brisbane, Cairns, Melbourne, Orange, Perth, Sydney, Townsville and Wagga Wagga.
We are looking for people who:
– will provide each individual passenger with a friendly and efficient service,
– possess good organisational and time management skills,
– have strong interpersonal and communications skills,
– can think quickly on their feet when placed in challenging situations,
– are flexible, and
– have excellent grooming and personal presentation.
Airlines – Regional express
Positions – Flight Attendant/Cabin Crew
Age – Minimum 18
Citizen – Australian Citizenship or Permanent Residency
Language Required – English
Experience – minimum 3 Years full time Customer Service
Closing Date – 31 July 2020
In Detail View – Regional Express Flight Attendant Duties/Roles
Essential Selection Criteria

– Minimum 18 years of age
– Maximum height of 173 cm
– Current Senior First Aid Certificate
– Current Responsible Service of Alcohol Certificate
– School Certificate or equivalent
– Australian Citizenship or Permanent Residency
– A competent level of English both written and spoken
– Minimum of 3 years full-time Customer Service experience
– A high standard of physical fitness (incl must be able to swim 50m fully clothed)
HOW TO APPLY – You Can Apply through APPLY NOW Button below ( please Read all the details carefully before applying ) –

CityJet Cabin Crew Copenhagen – July 2020 – Denmark
Global Jet Corporate Flight Attendant Hiring 2020 Check Details & Apply