About the Airlines – City jet – CityJet is Europe's leading regional airline based in Dublin, Ireland, operating a fleet of Avro and Bombardier aircraft on wet lease services across the Continent. CityJet has crew bases in Amsterdam, Brussels, Copenhagen, Dublin, Helsinki, Paris (CDG and Orly), Stockholm, Tallinn and Vilnius.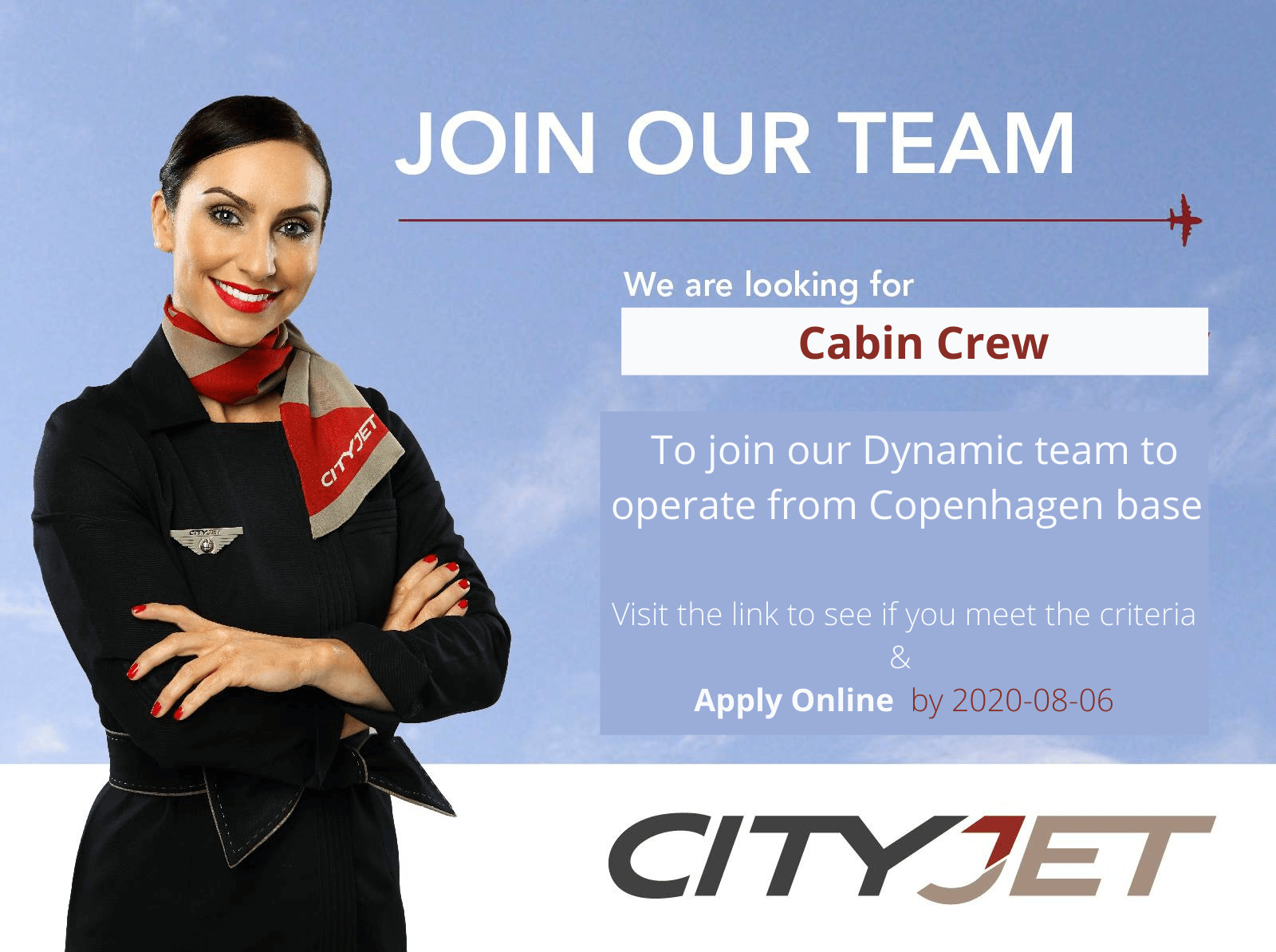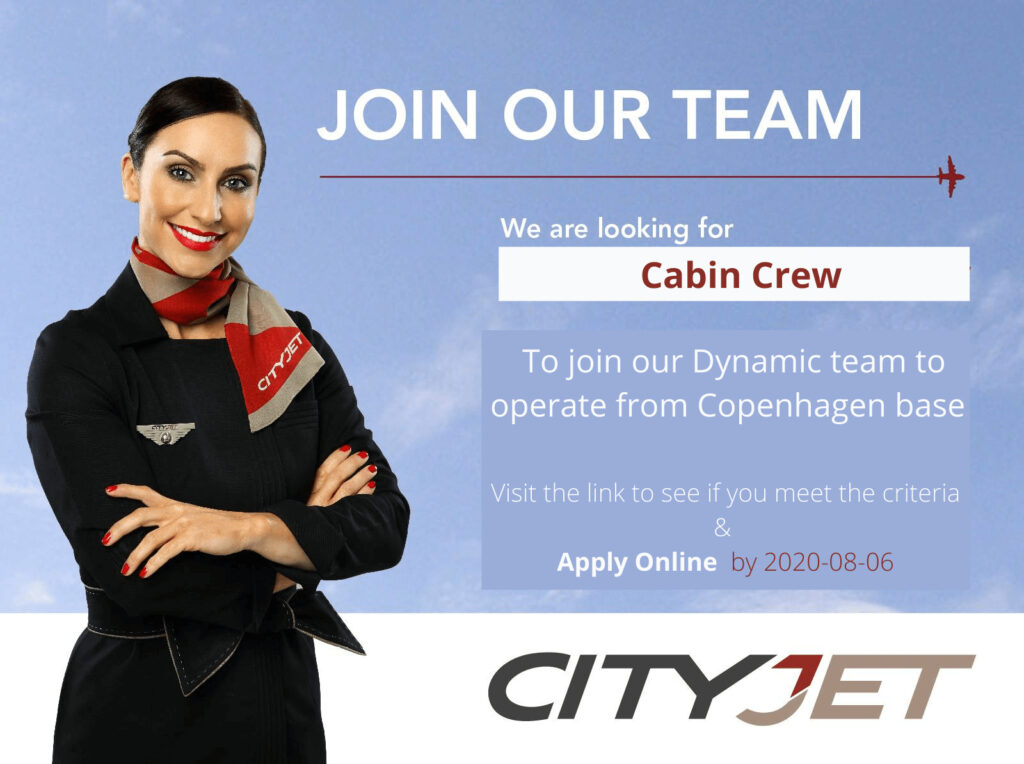 Job Notification/ Cityjet Cabin Crew Copenhagen –  CityJet Airlines has Released notifications regarding Cabin crew & is Hiring in Copenhagen , Denmark. Read all the Details given Below & apply For Cityjet Cabin Crew Copenhagen 2020.
CITYJET – We are seeking exceptional people to join our cabin crew team at our growing base in Copenhagen, Denmark on a 9-month Fixed Term Contract.
To be successful, you must have previous experience operating as cabin crew. You will be enthusiastic about helping customers and have a genuine passion for delivering outstanding customer service. You will also have a positive and flexible approach to work and always keep a smile on your face – no matter the time of day! You must also speak one of the following languages Danish/Swedish/Norwegian
Check – All Latest Jobs Here
Job Overview – CityJet Cabin Crew Copenhagen
Airlines – CityJet
Positions – Cabin Crew
Languages Required – Danish/Swedish/Norwegian ( Must Speak Any )
Contract –  9-month Fixed Term Contract
Minimum Age – 18 Years
Location – Copenhagen
Country – DENMARK
CityJet Cabin Crew Copenhagen Requirements/Duties/Roles
Your role will involve
Welcoming our passengers on board and making sure their journey is safe, simple, fun and on-time
Delivering services on each flight, including on-board service and shopping
Keeping the cabin clean and tidy throughout the flight
Helping passengers with any difficulties or issues
Supporting your colleagues to ensure a speedy turn-around so flights depart on time
Making sure all company policies and procedures are followed on every flight
In return, we give you
Full training so you understand CityJet ways of working and standards
An adventurous lifestyle of travel and meeting new cultures
A competitive salary and benefits
What do you need to apply?
Minimum 18 years of age
Previous experience operating as cabin crew
Fluent in a Scandinavian language.
Fluent in English both spoken and written
Maximum height 182cm
No visible tattoos/piercings
No criminal record
Ability to swim unassisted
Hold a valid EU passport allowing unrestricted worldwide travel
You must be able to and be prepared to work shifts, unsociable hours, weekends, holidays and overnights
English CV
If you have previously been a Cityjet crew member, please click here
HOW TO APPLY – Click on The Apply now Button Below to Apply For This job ( Read all the Details Before Applying ) –

More Jobs & Opportunities for Cabin Crew/Flight Attendant – CLICK HERE