About The Airlines – American Airlines – American Airlines is a Major American Airlines Which is Headquartered in Texas (Fort Worth).American Airlines With its Partners, Operates on International and Domestic Network with Almost 6,800 Flights Per Day.Airlines Operates in 350 Destinations and 50 Countries. Dallas-Forth-Worth is the Largest Hub For American Airlines. Its parent Company is American Airlines Group.
Job Notification – Trainee Flight Attendant – In The Latest Notification – American Airlines is looking for Suitable and Skilled Trainee Flight Attendants Bilingual – (Czech and English).Interested Applicants can Check The Eligibility & Apply For American Airlines Flight Attendants Position.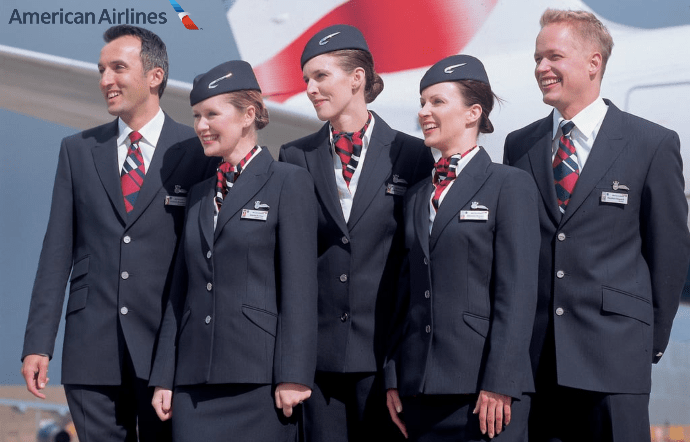 Read All The Details Carefully
Job Summary –
Airlines – American Airlines
Positions – Trainee Flight Attendant
Age – Minimum 20 Years
Posting Date – 10 December 2019
Location: Dallas, TX, US
Req ID: 31567
Additional Job Details
To be eligible for a designated language speaker Flight Attendant position, you must:
• Be fluent in the Czech language or another designated language
• Successfully complete a language proficiency screening at a superior rating
InDetail Summary –
Job Qualifications
• Must be able to read and speak Czech fluently
• Must be able to read, write and speak English fluently
• Competent in handling difficult situations, problem solving and complaint resolution
• Excellent communication and interpersonal skills; friendly reception of all customers
• Must present a professional image, may not have visible tattoos, facial, multiple or upper ear piercing, or extreme hair color or style while in Flight Attendant Uniform
• Height and weight must allow for safe operation of the aircraft and may not exceed specific aircraft dimensions (for example, must be able to sit in jump seat and fasten the harness, move throughout the cabin aisle, and operate emergency exits).
• Work in climates and locations across the globe and work variable shifts
• Able to attend up to six (6) weeks of unpaid training in Dallas/Fort Worth, Texas, and move immediately to the city to which you are assigned as a base


Requirements:
• High school diploma or GED equivalent required
• College education or two years' customer service experience preferred
• Prior airline experience is not required
• Must be at least 20 years of age
• Must be in possession of a valid US or Foreign Passport with applicable VISAs
• Must possess the legal right to travel unrestricted to/from all countries that are served by American Airlines
• Travel documents must remain valid throughout all phases of training and employment
• Must have the right to work in the United States
• Must be willing to work any shifts including nights, weekends and holidays.

All candidates must be willing to be based from any of our base locations including Boston, MA; Charlotte, NC; Chicago, IL; Dallas/Ft Worth, TX; Los Angeles, CA; Miami, FL; New York, NY; Philadelphia, PA; Phoenix, AZ; Raleigh/Durham, NC; San Francisco, CA; St Louis, MO; Washington, DC.
Physical Demands and Working Conditions:
American Airlines Flight Attendant –

• Position requires some physical exertion such as pulling, pushing, reaching, bending, walking and light lifting
• Long periods of standing and speaking
• Airports ramp operations are noisy and can be hazardous without due caution
• Extensive travel, must be able to spend consecutive nights away from home and endure all climates
• Alternative work schedules including evenings and weekends
• Ability to push or pull moveable carts weighing in excess of 250 pounds
• Ability to lift objects up to 35 pounds such as galley stowage bins and carry-on baggage
Nearest Major Market: Dallas
Nearest Secondary Market: Fort Worth
Job Segment: Trainee, Flight Attendant, Entry Level, Aviation
APPLY NOW ( American Flight Attendant ) – CLICK HERE
Also Check – More Jobs in American Airlines