About the Airlines – Stobart Air – Stobart Air, legally incorporated as Stobart Air Unlimited Company is an Irish regional airline headquartered in Dublin , Ireland . It operates scheduled services under the brands Aer Lingus Regional, BA CityFlyer and KLM Cityhopper on behalf of their respective owners. Stobart Air has operating bases at Cork, Dublin and the Isle of Man for Aer Lingus Regional.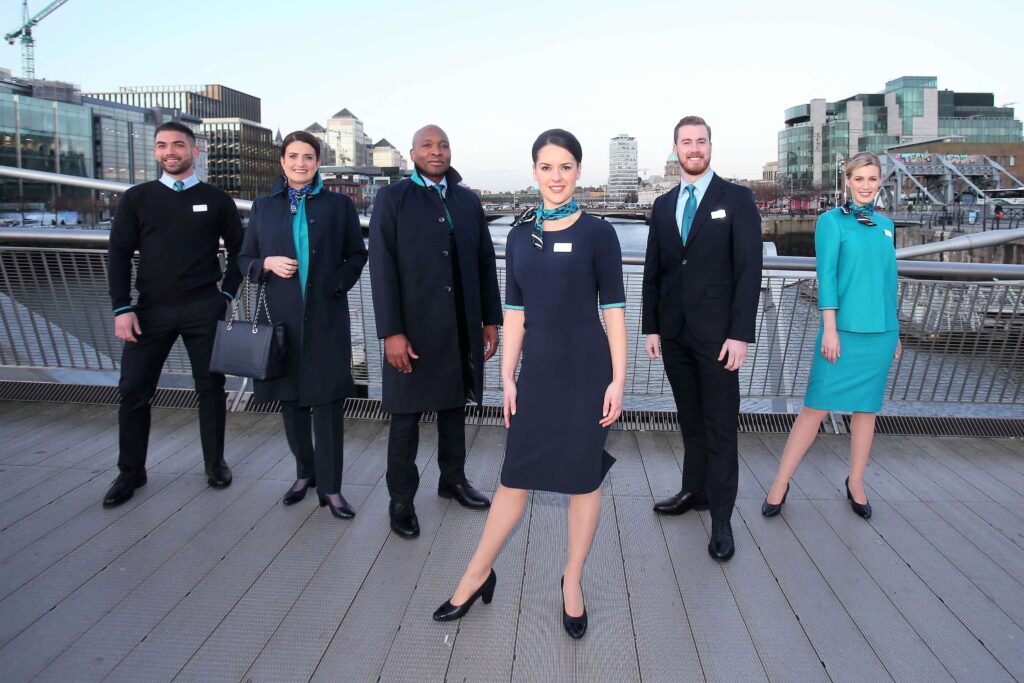 Job Notification / Stobart Air Cabin Crew – Stobart Air are one of Ireland's largest regional airlines, operating more than 900 weekly flights across 30 routes throughout Ireland, the UK and Western Europe. To support the opening of our newest base, we are currently recruiting for the role of Senior and Junior Cabin Crew members at Belfast City Airport.Check The Eligibility Details for Stobart Air Cabin Crew & Apply Online –
Stobart Air Cabin Crew Ireland Eligibility Details
Duties and Responsibilities include:
Ensure operational safety, security and health and safety responsibilities are performed to the highest standards and are compliant with EASA, Stobart Air Standard Operating Procedures and all other relevant legislation
Maintain safety compliance at all times provided for through Safety & Equipment Procedures training
Deliver excellent customer service in line with our service standards
Ensure compliance with all company policies and procedures in accordance with relevant legislation
To be a representative of Stobart Air and adhere to our uniform standards at all times
To build effective working relationships with colleagues and service partners to work as one team
The ideal candidate will possess the below:
Passionate for delivering excellent service on every occasion
Genuinely enjoy customer interactions, can show empathy and are willing to "go the extra mile" to achieve customer service excellence
Confidently able to deal with challenging and difficult circumstances and remain resilient throughout
Show respect and understanding for different cultures and backgrounds and you treat everyone as individuals
Effective communicator able to deliver difficult messages with confidence
Proactively seek solutions and take personal responsibility for resolving problems
Always demonstrate a positive 'can do' attitude
Appreciate the need to work in a timely fashion and appreciate the need for punctuality
Uphold high personal and professional standards
Essential Criteria:
To be considered for a Senior Cabin Crew member position you must have flown as a senior cabin crew member for a minimum of 12 months and must be able to provide proof of the same
To be aged 18 or over at time of application
Fluent in both spoken and written English
Previous customer service experience (Desirable)
Hold a valid passport (with minimum of 12 months before expiry date) with the unrestricted right to live and work in the EU
To undergo a Criminal Record Check for all countries of residence for six months or more in the previous five years and be able to provide satisfactory references for the last five years
Ability to obtain and retain an airside pass
Be willing and able to work shifts covering 7 days a week, 365 days a year
Be willing and able to spend periods of time away from home and conduct stand-by duties in the proximity of your airport base
To wear the Stobart Air uniform to the required standard with no visible tattoos or body piercing. Tattoos or body piercings must never be visible on the body or through uniform clothing and cannot be covered up i.e. with make-up, plasters.
Physical Criteria:
To be medically and physically fit to meet regulatory and role requirements If successful, you will be required to obtain an EASA Medical Assessment prior to commencement of the training course
Comfortable to tread water unaided and must be able to swim 25 metres unaided
Be fit to pull a fully laden trolley weighing up to 72kg (11.5st)
You are able to fit into an aircraft jump seat harness without a seatbelt extension
You are able to lift a weight up to 28kg (4st). This is so that you are able to lift an emergency overwing window and quickly exit the aircraft
You are able to stay calm and deal with emergencies and take control of people when required
What Stobart Air can offer you?
Competitive Salary
Permanent contract
A stable fixed roster pattern 5:2:5:3
Interline tickets and ID 90 travel on Aer Lingus, British Airways and Etihad route networks
21 Days annual leave increasing with service
Company pension scheme
Loss of licence insurance
Health insurance
Annual medical
What to expect from the Stobart Air recruitment process?
Those applicants who meet the airline's minimum requirements will be invited to our first stage of the recruitment process, telephone screening.
Those shortlisted from telephone screening will be invited to attend a face to face interview with the Stobart Air Recruitment team.
Stobart Air is an equal opportunities employer.
APPLY FOR STOBART AIR CABIN CREW

Also Check – All Latest Cabin Crew & Flight Attendant opportunities
Wizz Air Cabin Crew Recruitment – Criteria & Apply