About Qatar Airways – Qatar Airways is the Youngest Airlines Headquartered in Qatar Airways Tower in DOHA. Qatar Airways operates Hub and Spoke Network Linking over 150 international Destinations. The Qatar Airways offers Competitive Compensation and Packages.Qatar Airways Company slogan is "Going Places Together".
All Latest Jobs in Airlines WorldWide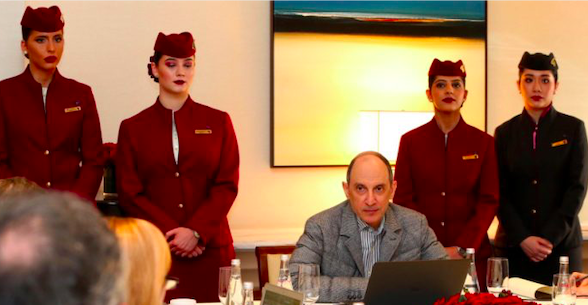 Job Notification – Qatar Airways  – In The Latest Notification, The Qatar Airways is looking for Suitable Crew Leave Officer  in Qatar – Doha. Interested Candidates can check the Eligibility criteria for Crew Leave Officer  & Apply Online Before last Date Which is 20 November 2019.
Selected Candidates will Get Full Time/Permanent Job in Qatar Airways.

Job Summary –
Airlines – Qatar Airways
Position – Crew Leave Officer
Function – Flight Operations
Qualification – Relevant College or University qualification to min Bachelor's level 
Employment Type – Full Time/ Permanent
Division – Middle East – Qatar – Doha
Experience – 3-4 Years in Related Work
Location – Qatar – Doha
Last Date of Application – 20 November 2019
Apply Mode – Online
Your Role –
You Will Be Responsible for running the Annual Flight Crew leave award and Bi Annual Cabin Crew Leave Award and managing balance leave post allocation within the predefined and agreed limits.
Responsible for providing excellent customer service to our crew members through daily emails and telephonic conversations if deemed necessary.
Responsible for highlighting system related issues to the Senior's

SKILLS –
Planning and problem solving skills
Good understanding of Crew Resources area is an added advantage.
Excellent English communication skills (written and spoken).
Intermediate level of Microsoft Office (Word, Excel, PowerPoint, Outlook) skills.
Leadership skills – Ability to delegate work, set clear direction and manage workflow. Strong mentoring and coaching skills.
Ability to train and develop subordinate's skills.
Operational 
Liaise with Man Power Planning every ballot period and receive leave allocation limits for each crew leave group.
Ensure the leave allocation limit lines are updated each month prior to roster production in order to maximise crew leave assignments and maintain operational integrity, within these limits.
Ensure that the allocation of leave lines always allows sufficient numbers of crew available to cover operational flying and training commitments
Establish a good understanding and working relation with our stakeholders such as Customer Experience, Flight Crew Management, Flight Crew Service Support, OCC, HR etc and provide excellent service to our customers who are the Flight Crew and Cabin Crew.
Assess and give feedback to the Crew Leave Manager on the implications of any changes requested to the leave award parameters. Seek feedback and analyse information to find ways to improve the current leave scheme
Liaise with the Crew Communications and Systems Training team to establish informative communication channels to both Flight and Cabin crew members and management on any system developments that could affect the leave allocation process.
Conduct a presentation to the new crew on the leave system and allocation process.
Issue a monthly management report detailing resolutions to outstanding leave requests or swaps
IT and Systems
Conduct testing along with the senior of new system releases, fixes and functionality as required. 
Coordinate the testing and preparation of the crew data base with the IT department prior to each Leave Bid opening. 
Ensure integrity of data and settings within the IT systems. 
Constructively participate in improving the use and functionality of the systems. 
Escalate IT issues as required. 
Provide advice on change requests affecting the leave system
HOW TO APPLY – Interested Applicants can Apply From The Given APPLY NOW Link Below
APPLY NOW – CLICK HERE
More Details – CLICK HERE
Also Check – All Latest Job Opportunities Cabin Crew – Flight Attendants