Due the the Corona outbreak The Emirates Airlines also Suspended its flights from 24 March 2020. The Last Flight of Emirates Landed at the Dubai Airport Which Was Started From Dublin.
Following the Orders of UAE Government, The Emirates Announced 2 Weeks Suspension of Flights.The Government has Closed The Borders of the Country in a Bid to limit the Spread of COVID-19.
This is How the Last Time moments Captured at the Dublin Airport. The Members of the Emirates Expressing the Love For The Airline.
A6-ENE 777 #EK162 Was The Last Flight of Emirates Airlines that started from Dublin to Dubai. The members of Emirates Started Waving Hands Towards the Flight At The Time of Takeoff. it was a Very Sobering & Sad moment for the members who are Working with Emirates for so Long Time & Now Suddenly they have to Stop Their Operations. However This is Temporary Everything will be Fine in Coming Weeks.
The Crew Members & staff members Loves Working & They always aim for the Best Experience to the passengers.But Due To Corona Virus The Whole World is Facing the Worst Situation and The only Solution for now is Social Distancing.
Emirates Group closely monitors the situation and keeps in regular contact with all relevant authorities, so that it can implement the latest guidance to keep travellers and its employees safe and healthy.
Country Manager of Emirates also Posted About EK162 on Twitter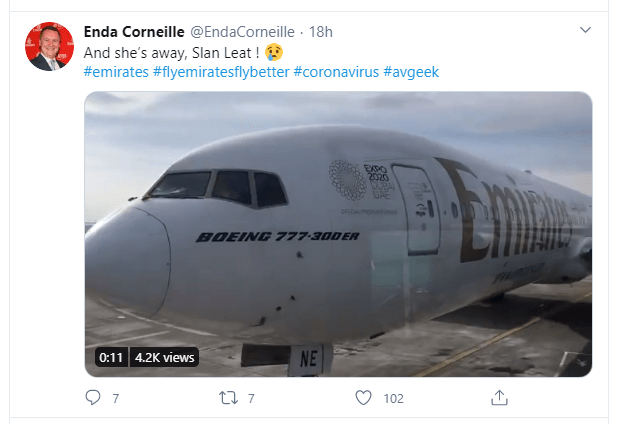 We Request You To Please Stay at Home & Stay Safe.
Also Check – All Latest for Cabin Crew