About the Airlines – Horizon Air – Horizon Air, is a regional airline based in SeaTac, Washington, United States. Horizon Air and its sister carrier Alaska Airlines are subsidiaries of Alaska Air Group, and all Horizon-operated scheduled flights are marketed and sold by Alaska Airlines. Read more on Wiki – Here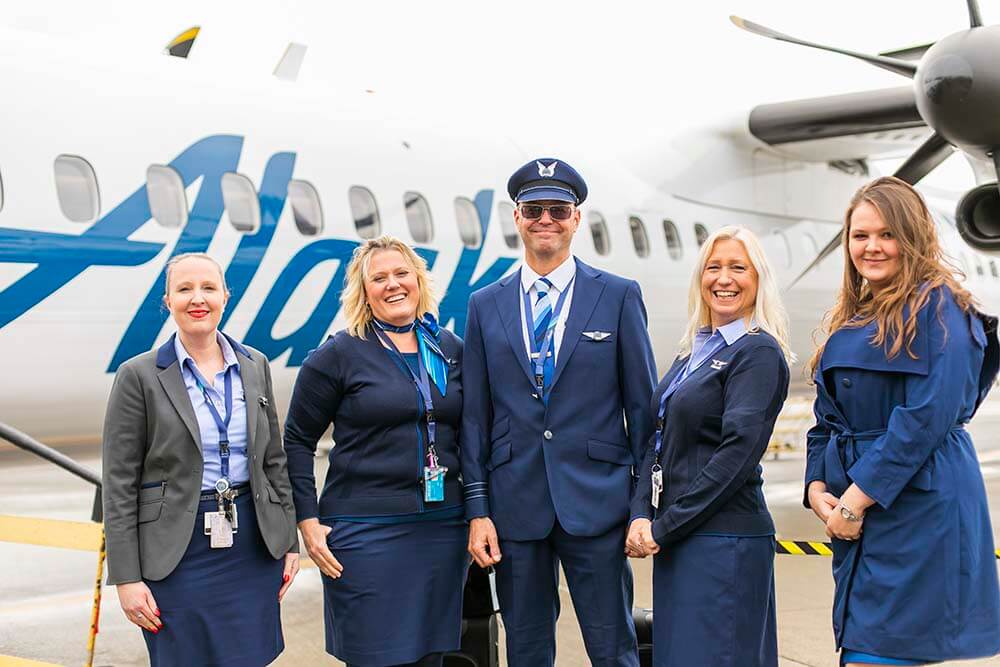 Horizon Air Flight Attendant Summary –
Airlines – Horizon Air
Positions – Flight Attendant
Employment Type – Full Time
Job location : OREGON
Age – 21 years old ( minimum )
Last Date – 2020-11-15
The Team
As a Horizon Air flight attendant, you'll fly regionally throughout the West, creating signature inflight experiences can make for a fun and challenging career. Our flight attendants always keep safety as their number-one priority and always bring their best selves to work. If you can manage a flexible schedule, commit to upholding our high standards, and create remarkable moments that people will remember, we want to hear from you.
Horizon Air flight attendant Hiring / Job notification Summary Below –
Role Summary
As the face of Horizon Air, representing Alaska Airlines, you'll need to be an authentic and gracious host. You will need to have an in-depth knowledge of inflight service duties, as well as safety procedures that you may need to perform during the flight. Finally, you'll need to show a strong desire to maintain a positive, approachable manner with our guests as well as your fellow employees to create an airline people love. This is a union represented position.
Key Duties
Understands and is in full compliance with all safety regulations
Ensures all safety equipment on aircraft is in working order
Greets passengers, assists with seating assignments, carry-on baggage stowage and security
Explains and demonstrates use of safety equipment and emergency procedures on both aircraft
Prepares and serves meals and beverages, including alcohol
Effectively markets onboard products, such as meals and inflight movies, as well as processes sales using A mobile device
Calmly resolves passenger situations during flight, including Medical emergencies
Answers questions regarding flight operations and offer destination information
Performs other duties as assigned
Job-Specific Experience, Education & Skills
Required
A minimum of 2 years of customer or community service experience.
Uncompromising dedication to safety.
Body size cannot exceed specific aircraft dimensions (example: jump seat, harness without modification, cabin aisle and emergency exits)
Ability to meet the company's grooming, uniform and appearance standards
Ability to demonstrate the physical ability to perform the duties of a flight attendant
Ability to relocate to any of our flight attendant bases: Seattle, WA; Portland, OR; Medford, OR; Boise, ID; Spokane, WA
Willingness to serve alcohol.
Basic computer literacy and comfort with technology.
Flexible to work varied schedules, including nights, weekends, and holidays.
Ability and willingness to travel extensively.
Must possess adaptability to perform a variety of duties and perform effectively under stress.
Able to attend 5-6 weeks of paid training in Portland if selected.
Possess and/or obtain a current passport with unlimited access in and out of the United States. Employees with non-U.S. passports also will need any appropriate travel documentation. Must be able to fly unrestricted in and out of Canada.
Ability to communicate in English.
High school diploma or equivalent.
Minimum age of 21 years old.
Must be authorized to work in the U.S.
Role/Location Specific Requirements
Training Requirements: Training will be held in Portland and consists of five (5) weeks of paid training.
Total Rewards
This role pays per collective bargaining agreement.
Medical, dental and vision benefits
401k program
Monthly incentive pay plan
Annual incentive pay plan
Generous paid time off
Travel privileges on Alaska Airlines & Horizon Air
Job-Specific Leadership Expectations
Embody our values to own safety, do the right thing, be kind-hearted, deliver performance, and be remarkable.
Equal Employment Opportunity
Horizon Air and Alaska Airlines are equal opportunity employers. All qualified applicants will receive consideration for employment without regard to race, color, religion, sex, sexual orientation, gender identity, gender expression, national origin, age, protected veteran or disabled status, or genetic information.
We will consider for employment qualified applicants with arrest and conviction records in accordance with applicable Federal, State, and local laws.
We participate in E-Verify, a service of the Department of Homeland Security (DHS) and Social Security Administration (SSA), where required.
Apply For Horizon Air Flight Attendant Here –

See More Cabin Crew & Flight Attendant Jobs – CLICK HERE
Also Check – All Latest CABIN CREW Jobs
Read all the Details Before applying for any job, apply only if you are eligible , GOOD LUCK.