About The Airlines – Hawaiian Airlines –  Is The Flag Carrier And The Largest Airline In The U.S. State Of Hawaii. The Airline Operates Its Main Hub At Daniel K. Inouye International Airport On The Island Of Oʻahu And A Secondary Hub Out Of Kahului Airport On The Island Of Maui. The Airline Also Maintained A Crew Base At Los Angeles International Airport. Hawaiian Airlines Operates Flights To Asia, American Samoa, Australia, French Polynesia, Hawaii, New Zealand, And The United States Mainland. Read More On Wiki Here
Click Here To See All Latest Jobs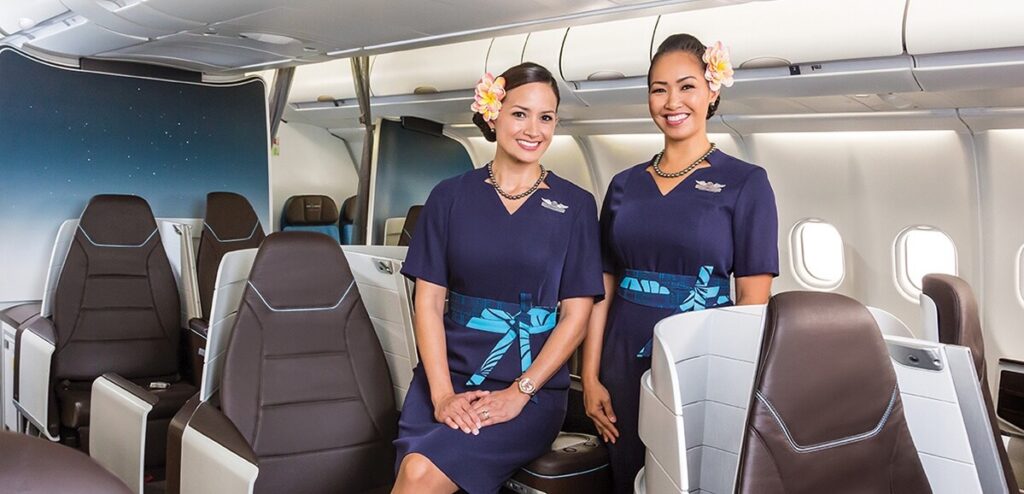 Job Notification/Hawaiian Airlines Flight Attendant Hiring/Recruitment – US Based Hawaiian Airlines invites applications for the recruitment of Flight attendants.Read all the eligibility criteria & details below and Directly apply for Hawaiian airlines flight attendant online –
Hawaiian Airlines Flight Attendant Recruitment 2021 Summary –
Airlines – Hawaiian Airlines
Positions -Flight attendant
Title – Japanese Language Qualified
Post Date – 29-09-21
Requisition Number – 21-1559
Job Type – Full Time
Department – In Flight services
Location – Honolulu , HI
Aloha and mahalo for your interest in the Japanese Language Qualified Flight Attendant position with Hawaiian Airlines!
We will have a recruitment event taking place in Honolulu, Hawaii.  If selected for interviews, exact dates and times will be communicated.  Please note that all dates and times are subject to change based on operational need.
Hawaiian Flight Attendant Requirements
Minimum Requirements:
Must be 21 years old
High school diploma, or GED equivalent; college education or degree preferred
Present a professional image. May not have visible body art (including tattoos), facial, multiple or upper ear piercing, gauge piercings, or extreme hair color or style while in the Flight Attendant Uniform and while in any physical position in public areas
Demonstrate strong customer service skills and ability to effectively diffuse and resolve difficult customer situations
Able to read, write, and speak English proficiently
Must be able to proficiently speak business level Japanese and read Romaji or Kanji
Successfully complete an FAA-approved, unpaid eight-week intensive training program provided by Hawaiian Airlines
Able to relocate within the state of Hawaii or the continental U.S.
Able to be present to work alternative schedules, including evenings, weekends and holidays
Vertical Reach of 82"
Successfully clear tuberculosis (TB) test
Successfully clear pre-employment drug test*
Must be legally authorized to work in the United States
Must be in possession of a valid passport and be able to secure applicable visas for travel to countries served by Hawaiian Airlines
Must possess the legal right to travel from all countries served by Hawaiian Airlines
Travel documents must remain valid throughout all phases of training and employment
Flight Attendants work in an environment subject to varying climatic conditions, variable positive and negative gravitational loads induced by turbulence, and varying levels of cabin pressurization. In addition, flight attendants are required to stand for up to four to seventeen hours, during which time stooping, twisting, and pulling and pushing cabin equipment may be necessary.
Provide proof of full COVID-19 vaccination by date of training.
*DOT regulations, 14 CFR part 120 identifies this position as performing safety-sensitive functions. You will be required to undergo DOT pre-employment drug testing to determine the presence of Marijuana, Cocaine, Opioids, PCP (Phencyclidine) and Amphetamine prior to any offer of employment or transfer into this position
Preferred Qualifications:
Two years of direct customer experience in the hospitality or airline industry, OR four years of customer contact and customer service issue resolution with the general public in industries such as retail, education, health care, and/or professional services.
Read and translate Japanese characters (Kanji, Hiragana and Katakana).
HOW TO APPLY – Interested candidates can Apply For the Hawaiian Airlines Flight attendant Recruitment via One click on the Button Below. we share 100% Safe & Genuine Links.

Want to See More opportunities ? then CLICK HERE
All The Information Published on Airlinesalerts.com is Genuine. Explore it safely 🙂 Follow Airlinesalerts.com on Facebook for Updates.