About the Airlines – Etihad Airlines – is the Second Largest Airlines After Emirates in UAE. Etihad Started Operations in November 2003. Etihad airline flies to over 84 destinations with a fleet of over 100 Airbus and Boeing aircraft, serving 18.6 million passengers a year and carrying 682,000 tonnes of cargo in 2018.
Online Applications are Open Now Interview Dates Will Be Disclosed later Depending on The Situations – Due to COVID – 19.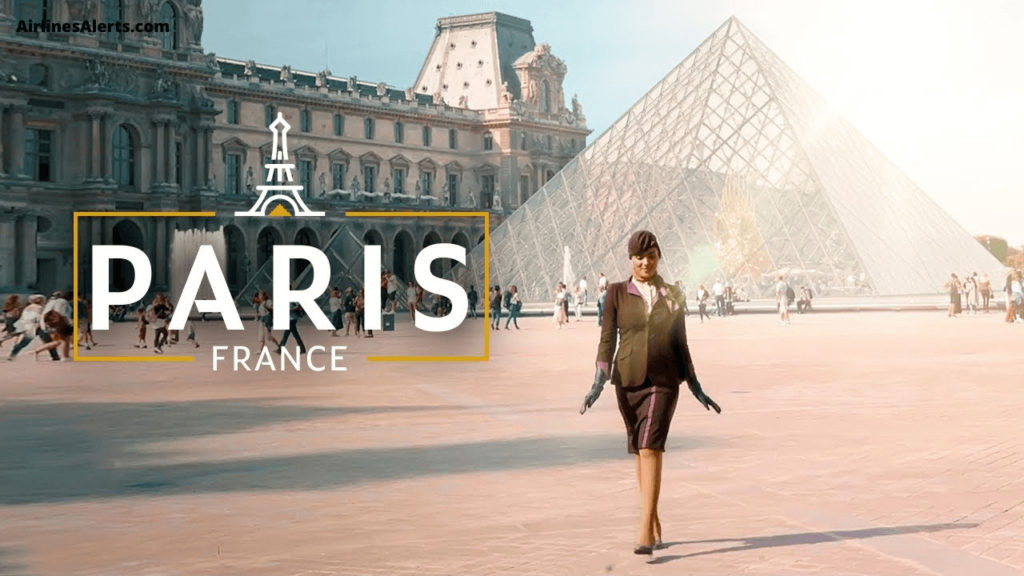 Also Check – All Latest CABIN Crew Jobs ETIHAD Airways
Job Notification/Cabin Crew Recruitment Paris   – Etihad Airlines will be Conducting Assessment Days for the Recruitment of Cabin Crew in France (Paris Assessment Centre ) . Interested Applicants can Apply For Assessment Day- PARIS – France Online. Etihad Cabin Crew Recruitment Paris 2020 Details Given Below –
NOTE – Do Not Pay Any Money for CABIN CREW Jobs – Airlines Don't Ask For Any Money ( STAY SAFE from FRAUD Activities )
Also Apply – Etihad Cabin Crew France Recruitment 2020 (Marseille Assessment Centre)
Etihad Cabin Crew Recruitment Paris – France 2020 – (Paris Assessment Centre)
Airlines – ETIHAD Airways
Positions – Cabin Crew/Flight Attendant
Employment – Full Time
Date Posted – 22 April 2020
Country – FRANCE
Centre – Paris Assessment Centre
All Latest Opportunities in ETIHAD Airways
ETIHAD Cabin Crew Recruitment Paris Details –
EDUCATION AND EXPERIENCE:
Minimum High School certification or any higher education.
Fluent English verbal and written comprehension; another language is an additional benefit.
Must be at least 21 years old on the date of joining.
Confident in water and be able to swim with the aid of a flotation device.
Able to reach 212cms without shoes.
No tattoos or body piercing (exception for one earring in the lower lobe of each ear for females only) that would be visible whilst wearing the Etihad uniform (bandages and cosmetic coverings are not permitted).
No criminal record.
Excellent personal presentation, style and image.
Willing to serve alcohol, including during the holy month of Ramadan.
Willing to comply with UAE and GCAA visa, medical and health screening requirements.
SKILLS:
Communication Skills – Excellent
Customer Orientation – Excellent
English Language skills – Excellent
Assessment Days
The Etihad Cabin Crew Recruitment team conduct assessments in numerous countries worldwide. In order to be shortlisted to attend one of these events, you will need to first complete an online application.
Wherever possible, please apply to the job posting for the specific location you wish to attend and do not apply to multiple locations. If you are unable to attend any of our planned Assessment Days, please submit your application via the 'Cabin Crew Worldwide' job posting outlining your preferred location of assessment.
Etihad has no affiliation with any Cabin Crew or Flight Attendant Academies, but students from such academies are welcome to apply.
APPLY NOW ( Etihad Cabin Crew Recruitment Paris 2020 ) – Read All The Eligibility Details Carefully & Apply

MORE CABIN CREW JOBS /FLIGHT ATTENDANT JOBS –
Etihad Cabin Crew France Recruitment 2020 (Marseille Assessment Centre) – Apply Online
Cabin Crew Recruitment Japan {Hiring Now} – Apply Online
Etihad Cabin Crew Recruitment Berlin 2020 Germany
Etihad Cabin Crew Recruitment Cape Town ( South Africa ) 2020 – Apply Here