About The Airlines – Singapore Airlines – (SIA) is the flag Carrier Airline of Singapore with its Hub at Singapore Changi Airport. it is also ranked one of the Best Airline in the World. Singapore Airlines has also won the 2nd and 4th Position as the World's Best Airlines and world's Cleanest Airlines Respectively for 2019.
Online Applications are Open Now 🙂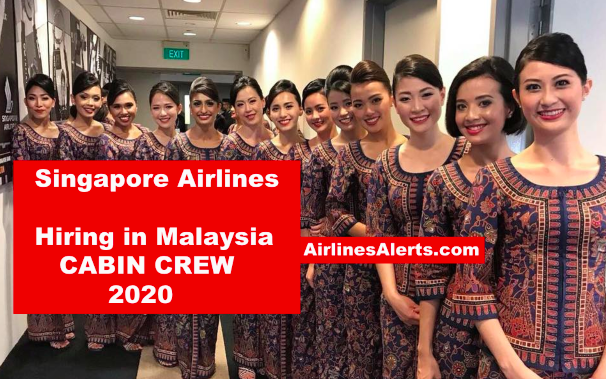 Job Notification – In The Latest job Notification, Singapore Airlines are recruiting Flight Stewards and Flight Stewardesses in Kuala Lumpur in January 2020. Interested Applicants can check the Eligibility & apply For Singapore Airlines Before the Date.
Job Summary – Singapore Airlines > Malaysia
Organisation – Singapore Airlines
Position – Cabin Crew
Education Qualification – Degree/Diploma
Employment Type – Full Time
Age – Minimum 18 Years
Experience – Freshers
Location – Malaysia – Kulala Lumpur
Interview Date – 20 January 2020
Eligibility Criteria in Detail –
  – Minimum age of 18 years old due to legislative requirements
* Fulfill the minimum height requirement of at least 1.58m for females and 1.65m for males in order to carry out safety and emergency procedures onboard
* Degree / Diploma 
 OR
* At least 2 principal level passes and 2 subsidiary passes in STPM / GCE 'A' level or its equivalent
OR
* At least 5 credits in SPM / GCE 'O' level and relevant working experience
* For Malaysian qualifications at SPM level, at least 5 credits including a minimum of grade B in English and working experience are required
Successful candidates must be able to commence employment with us within three months from the date of application.
Application Details
Online application is now open. 

Shortlisted applicants will be invited to submit a video interview online. Candidates who are shortlisted from the video interviews will be notified and invited for in-person interview in Kuala Lumpur in January 2020. ​

We thank all candidates for their interest in Singapore Airlines, and regret that only shortlisted candidates will be notified.
Online Application – Click Here
How To apply –
Interested Applicants can Apply Online by Visiting the Link Shared Above. You Need to Register at Singapore Airlines to Submit Online Application.
Also Check- All Latest Opportunities in Singapore Airlines
All Airlines Jobs/Opportunities Worldwide
Apply For Singapore Airlines Malaysia Recruitment it is a Great Opportunity to Start Flying Career.