About Qatar Airways – Qatar Airways is the Youngest Airlines Headquartered in Qatar Airways Tower in DOHA. Qatar Airways operates Hub and Spoke Network Linking over 150 international Destinations. Qatar Airways offers Competitive Compensation and Packages.Qatar Airways Company slogan is "Going Places Together".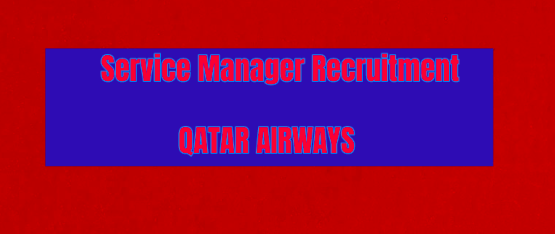 Job Notification – Qatar Airways – In The Latest Notification, The Qatar Airways is looking for Airport Services manager in Goa, India. Interested Candidates can check the Eligibility criteria for the Post of Airport Services Manager & Apply Online Before the Last Date :-

Also Check – Qatar Airways Open Day for Cabin Crew
Selected Candidates will Get Full Time/Permanent Job in Qatar Airways.
The Candidates Have to Submit a Resume Online. The Team will Contact you. Read Details Below
Job Overview –
Organisation – Qatar Airways
Position – Airport Services Manager
Education Qualification – Bachelor's Degree
Employment Type – Full Time/ Permanent
Job Function – Airport Operations
Experience – 7 Yrs of Job Related Experience
Location – GOA , INDIA
Last Date of Application – 10 October 2019
Apply Mode – Online
Skills Needed – Fluent English ( Spoken & Written ).
Your Duties & Responsibilities –
Ensure Safe & Secure and Cost Effective QR Airport Operations.
you will Ensure QR Ground Handling & Customer Services Standards are met all the time.
You Will Motivate the Team and also Represent QR at the Airport AOC.
Read More at the Apply Now Page ( Link Given Below ).
All Latest Jobs – Click Here
Apply Now ( Airport Services Manager ) – Click Here
More Details – Click Here
Looking for Upcoming Jobs for Cabin Crew ? Airport Jobs ? Flight Attendant Jobs Explore Airlinesalerts.com For All The Latest Updates All Airlines Worldwide.
We Post only Genuine Information Here. No Fraud no Fake Details are Posted Her & We Will Never Share Any fake Information. Trust us and Explore Thousands of Jobs and Apply For the Best One Which Suits You 🙂
We Wish You Best of Luck For Your Future. GOOD LUCK