About The Airlines – Jet2.com – Also Known as jet2 is a Low Cost British Airline Which offers Scheduled & Charter Flights from the United Kingdom. Jet2 Is the Third Largest Scheduled Airline in UK. Its main base and headquarters is at Leeds Bradford Airport (with its head office in the city centre of Leeds),With Other Further Bases
See All Latest Job Opportunities – CLICK HERE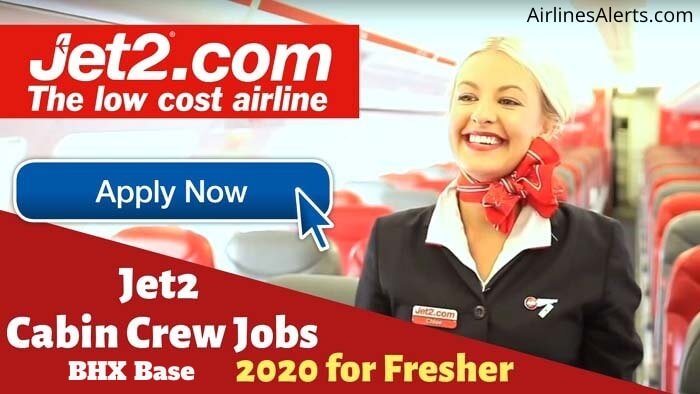 Job Notification – Jet2.com Cabin Crew Recruitment – Jet2 is looking for Cabin Crew Based in Birmingham and Accepting Applications for 2020 Cabin Crew Team. Interested Applicants can Check The Eligibility & Apply For jet2 Cabin Crew 2020 Online –
Only apply to this position if you wish to be based at Birmingham.

Job Summary – jet2 Cabin Crew 2020
Airlines – jet2
Position – Cabin Crew
Job Title – Cabin Crew BHX
Job Type – Fixed Term
Location – Birmingham Airport
Your Duties/Responsibilities –
As a member of the team,
you are responsible for the safety and comfort of all customers whilst onboard our aircraft.
Working as One Team with your colleagues, your friendliness and passion for creating memories for our customers will ensure they always receive a truly VIP service when flying with Jet2.com!
Our Cabin Crew recruitment process is the same for all our bases. Only one application per candidate is permitted per season, therefore please only apply for your preferred base. 
How To Apply – Interested Applicants can Apply Through APPLY NOW link Shared Below –
APPLY NOW ( Cabin Crew BHX ) – CLICK HERE
More Jobs – Latest Opportunities in QATAR AIRWAYS
Latest Opportunities in Etihad Airways