Hello Friends How are You All ! So Do You want to be a Cabin Crew in indigo ? Are you Pursuing your Higher Studies and Thinking to get a Good Job with High Salary ? Then Here are some Tips that will Help You To Crack/Clear the interview in the First Attempt 🙂 YES in the First Attempt –
So lets Get Started – Crack Clear Indigo Cabin Crew Interview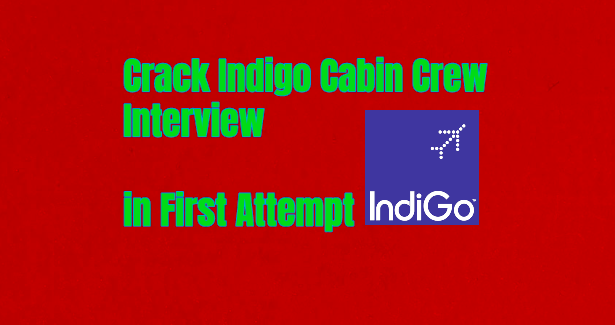 How To Crack The Cabin Crew Interview In the Very First Attempt 2019
So As You Guys Know that Different Airlines Have their Different Rules & Regulations and Selection Criteria But They Want the Same Qualities in you That is Your Communication Skills and Your Dressing Sense + Your Personality. Your Studies Doesn't Matters Here It's Just a Formality for the Selection Criteria.
So What You Need To Do Now ?
if you Are in 12th Standard or Completed 12th Class you can Apply For the Interviews and Walk in for the Interviews. The Airlines keeps on Hiring the Cabin Crew Applicants from the various Locations. But, The Main Thing You Need is English Speaking Skills YES it matters A lot. This will Decide your Selection.
So Before you go for any interviews prepare well For The Interview, You Get Enough Time to Prepare for it. First You Need to Submit Online Application For the Interview. To Get A Call For The Interviews You Must Prepare Attractive CV. Try To make The Things Simple and Clear and Straight Forward.Write Down Your Achievements in CV ( Where Needed ).
Now Coming To The Dress For Interview –
The First Impression is Your Dress, How You Look In The Dress, How is your Dressing Sense. When You Go For the Interview You Must Follow the Company Rules They Clearly Mention the Dress Code for the Interview. This is Very Important for The Selection.
And Now It's Your Turn The y will Call Your Name and You Go Inside The Room For The Interview, Now Your Are Ready to Get Selected for the Cabin Crew Team. ( Try To Speak Fluent English ) Keep that in Mind That you Have the Knowledge of Selection Criteria and Knowledge of Cabin Crew Work And Services. Just a Basics.
Be Very Clear and Straight Forward Don't Act Silly it will Create Negative Impact. Keep Smiling (Simple Smile ) whenever you Reply to their Questions and don't Get Nervous.
NOW What ? Wait for The Call And Ready For The Good News 🙂