About The Airlines – Gulf Air – Gulf Air Is A Boutique Airline & A Flag Carrier Of The Kingdom Of Bahrain. The Airline Operates Scheduled Services To 53 Destinations In 30 Countries Across Africa, Asia And Europe. It Was Formerly A Multinational Airline Owned By Bahrain, Abu Dhabi, Oman, And Qatar.
Also Check – All Latest Flight Attendant Jobs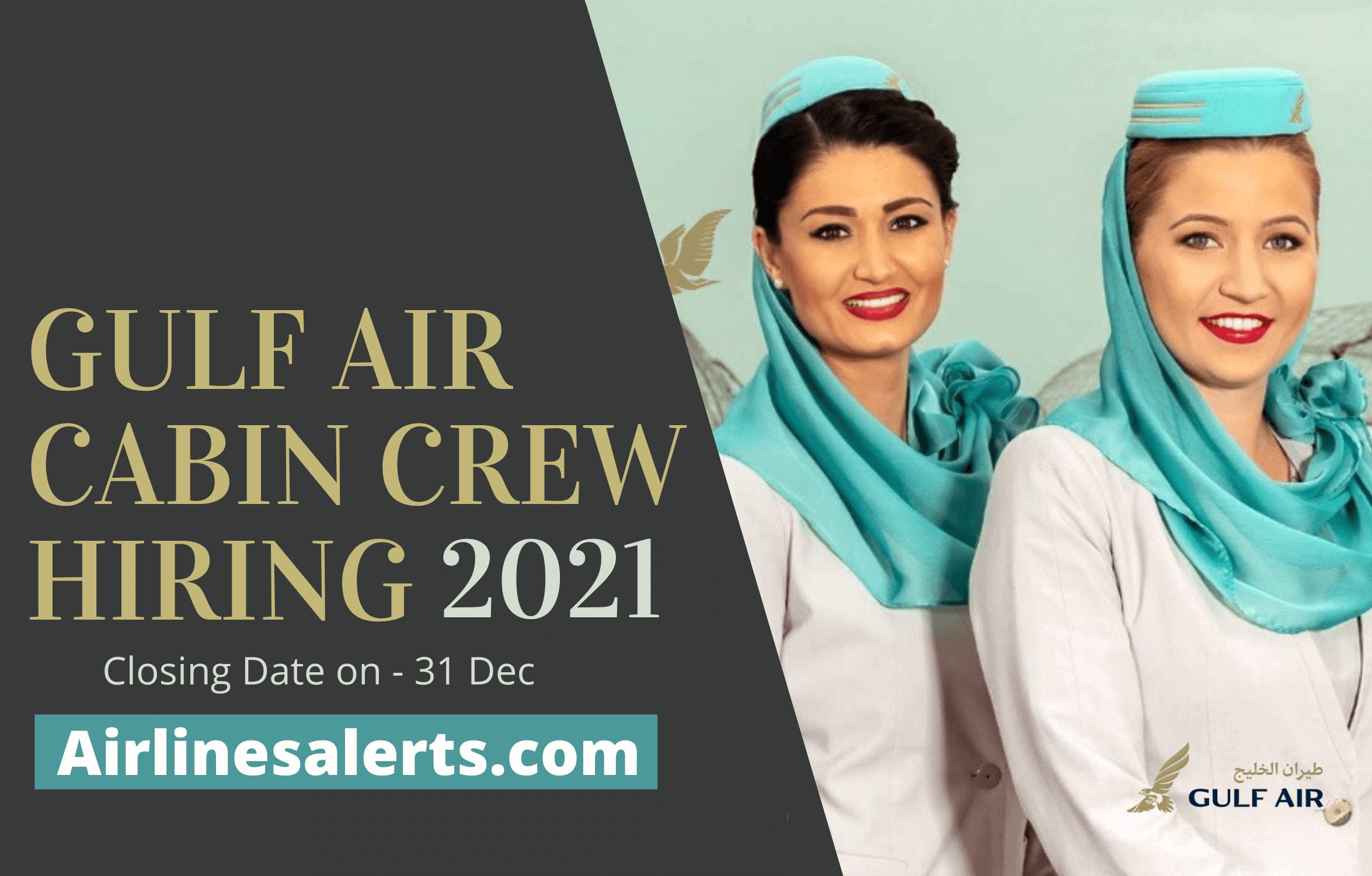 Job Notification – Gulf Air Cabin Crew Recruitment 2021 /Flight Attendant Recruitment – Gulf Air Is Looking For Suitable Flight Attendants Applicants To Join The Team Hence Recruiting Cabin Crew in BAHRAIN. Interested Candidates Can Check The Eligibility Criteria & Apply For Gulf Air Cabin Crew Bahrain – Flight Attendant Recruitment 2021.
Gulf Air Cabin Crew Recruitment 2021 – Details
Airlines –GULF Air
Positions – Cabin Crew/Flight Attendant
Age – 21-30 Years
Reference No : External 8099-21
Employment – Full Time
Location – HEAD Quarter
Location – Bahrain
CLOSING DATE – 31 Dec 2021 
All Latest Opportunities In ETIHAD Airways
Gulf Air Cabin Crew Recruitment 2021 In-Detail Summary
GULF Air Cabin Crew Eligibility 2021
Education & Experience
Secondary School Level.
Good English Communication Skills Both Written And Spoken.
Experience In Service Industry Is An Advantage.
The Jobholder Should Have Pleasant Personality And Manner And Ability To Work Calmly Under Pressure.
Customer Service Orientated
Ability To Deal With Multi-Cultural Organizations And Customers
Candidates Must Meet The Following Minimum Criteria
Age: 21 – 30 Years
Height : Minimum 160cm
Weight Proportionate To Height
Ability To Swim Minimum 50 Meters Unaided
No Visible Tattoos Or Scars
Benefits Offered
One Year Contract Renewable Subject To Crew Performance
Annual Leave Entitlement: 36 Days
Average Gross Salary Per Month USD $2,380/-
Meal Allowances During The Training
Duty Day Allowances Per Day
Productivity Allowances Per Hour From Sign In To Sign Off.
Tax (Unemployment Government Tax 1%)
ID Tickets On Gulf Air Network
ID Ticket With Partner Airlines
Ticket Benefit To The Employee Family Members In Accordance To Policy
Medical Insurance
HOW TO APPLY – for Gulf Air Cabin Crew –
Read All The Details Carefully Before Filling/Submitting Your Application. 100% Real Job Opportunities Are Shared On Airlinesalerts.Com. We Request You To Apply Before Th Closing Date As The Links May Not After The Job Is Expired. You Will Be Redirected To Official Website. Click On APPLY NOY Button Below – Gulf Air Cabin Crew Recruitment 2021

Jobs Posted Here on Airlinesalerts.com are 100% Verified and Genuine. Explore Opportunities Without worries.
Check Latest Hiring for Cabin Crew –
For Regular Updates Do follow us on Instagram @Cabin_Crew_Jobs_ and Facebook – Airlinesalerts.com.