About the Airlines – Bamboo Airways – Bamboo Airways, is a Vietnamese airline owned by the FLC Group, registered in Quy Nhon, Vietnam, with head office in Hanoi. The Carrier Started Operations in January 2019.

More Jobs – Click Here To See All Jobs/Opportunities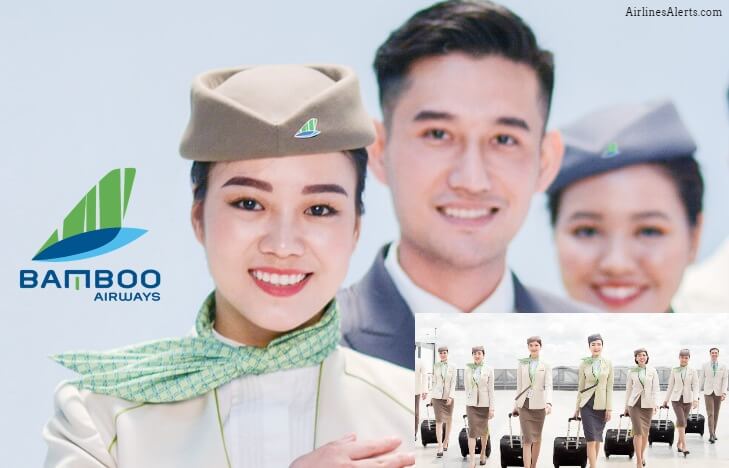 Job Notification – Bamboo Airways Cabin Crew Recruitment – In The Latest Notification, The Bamboo Airways is Looking for Suitable Cabin Crew Members to Join the Team So Bamboo Airways Will is Conducting Recruitment for Cabin Crew for Both Males & Females ( Experienced & Freshers). Interested Applicants can Check Eligibility & apply For Bamboo Airways Cabin crew Online –
Job Summary – Bamboo Airways
Airways – Bamboo
Positions – Cabin Crew
Education – High School Graduated or Above
Age – 18-30 Years
Closing Date – 29-02-2020
Location – Bamboo Airways Tower, 265 Cau Giay, Dich Vong Ward, Cau Giay District, HN, VN,
Country – Vietnam
Qualified Candidates' requirements:
Male: 170 cm or above;
Female: 160 cm or above;
Minimum arm reach of 212 cm (On tip toes);
Education: High school graduated or above;
Age limitation: 18 – 30
Fluency in written and spoken English. Minimum TOEIC 500 required (in case you do NOT have TOEIC certificate, please register and show your TOEIC appointment, otherwise you are NOT qualified to take part in this interview);
Second foreign language is the advantage;
Outgoing personality with good interpersonal skills is a plus too;
Medically fit to meet cabin crew requirements.
Job Description:
Greeting passengers as they board and exit the plane
Showing passengers to their seats and providing special attention to certain passengers, such as the elderly or disabled
Serving meals and refreshments
Checking the condition and provision of emergency equipment and information for passengers
Demonstrating emergency equipment and safety procedures
Administering first aid – dealing with emergencies
Supplying passengers with newspapers, magazines and in-flight entertainment
Selling duty-free commercial goods and pursuing sales targets
Producing written flight reports after completing a journey
Fresh Cabin Crew Recruitment
✅ Schedules in Hanoi: 09/02/2020
✅ Schedules in Ho Chi Minh: 13/02/2020
✅ Schedules in Cam Ranh: 15/02/2020
✅ Schedules in Da Nang: 22/02/2020
For further information or queries, please call:
Hotline Human Resources Division: 089 66 33 233.
Experienced Cabin Crew:
EXP BATCH 17 – Hà Nội – Wednesday 05/02/2020
BATCH 18 – Hồ Chí Minh – Wednesday 12/02/2020
BATCH 19 – Hà Nội – Wednesday 19/02/2020
EXP BATCH 20 – Hồ Chí Minh – Wednesday 26/02/2020
TO APPLY –
For Fresh Cabin Crew –
https://docs.google.com/forms/d/e/1FAIpQLScUigDWjNwp2PEbqJsOsI_dOLCX4Z3oAmOadc5ZLVoOzCIjhw/viewform
For Experienced Cabin Crew –
https://docs.google.com/forms/d/e/1FAIpQLScmQW39LG9E3PgYyczTvnhEljW8oGr75YWPeOgzjCTkPegmMA/viewform
Please choose your preferable interview place and time to receive further information.
Or send your resume to [email protected].
Note:
Application form will be closed 5 days before each events.
Date and venue may be changed.
ONLY qualified candidates will receive Invitation letter and ID number.